MODEL /
2022
Eclipse Cross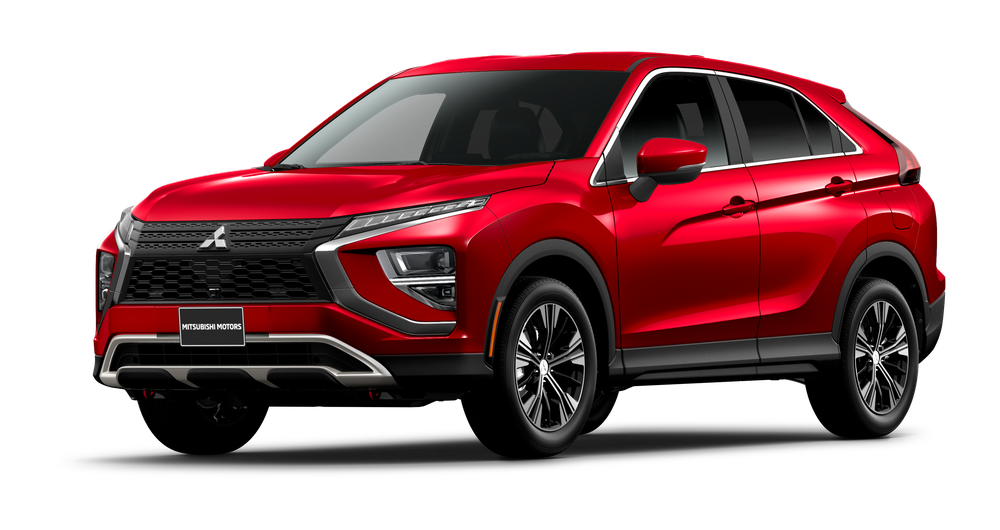 MITSUBISHI ECLIPSE CROSS - Better than Ever for Styling, Driving, Features and Value for 2022
Model Year 2022 refresh sees a large number of upgrades from styling to handling
Packaging delivers more value with upgraded technology at every price line
Starting MSRP is $28,598
Mississauga, ON – December 15, 2020 – Arriving in dealerships early in the new year, Model Year 2022 Mitsubishi ECLIPSE CROSS pulls forward a dynamic refresh that answers the wants and needs of Canadians looking for a more refined on-road presence and a more responsive drive experience.
The value is even greater thanks to a long list of enhancements that includes a retuned suspension with more linear steering; further high-styled body and interior plus the many additional features.
The ECLIPSE CROSS refresh is an important building block in MITSUBISHI MOTORS transformation plan that will see the entire line up change over the next few months. This includes the launch of an all-new, next-generation Outlander which will have its world debut in February and launch in dealerships in the spring.
"This is more than a refresh. The ECLIPSE CROSS has been an important building block for MITSUBISHI MOTORS' evolution as an SUV company. In Canada, the vehicle has captured a new customer for MITSUBISHI, one that demands more from their SUV from style to technology. With its heightened sophistication and strong value proposition, we believe Eclipse Cross is in an even better position to meet the needs of the discerning compact SUV customer," said Juyu Jeon, president and CEO, Mitsubishi Motor Sales of Canada, Inc.
More Style
Exterior
The ECLIPSE CROSS, when introduced, created waves with its aerodynamic sporty coupe look. Now the appearance has been further re-styled to look more sophisticated while adding increased functionality. Under the design concept of "Daring Grace", designers have extended the front and rear overhangs to express the elegant and dynamic proportions of the ECLIPSE CROSS.
Front end
The front fascia is truly striking; the DRLs are the strips of LED lighting sitting atop an evolved Dynamic Shield. The headlamps are now twin-oval shape and housed where the previous fog lamps once were. The new fog lamps on SE trim and above are crisp LED.
The ECLIPSE CROSS' unique and sophisticated front end makes a very clear style statement and is complemented even more with LED headlamps, on the SEL priceline and above, to further augment the drama.
Rear design
The restyled rear creates a more streamlined and elegant appearance with a large single rear window for enhanced visibility. Contoured taillights complement the look.
Interior
The ECLIPSE CROSS is moving up the luxury scale. You'll see more comfortable seats and a refined cockpit with a wider console. There are new options like a beautiful light grey interior to accompany striking new exterior paint choices such as the White Diamond with its rich metallic undertone
More room
Customers wanted the ECLIPSE CROSS to offer a bit more room and they got it with an increase of 140 mm in overall vehicle length, 105 mm of which are added in the back-end.
More dynamic handling
Boosted road performance is made possible by an electronically controlled 4WD system in combination with MITSUBISHI's well-established Super-All Wheel Control (S-AWC) system. S-AWC offers integrated control of Active Stability Control (ASC), Anti-Lock Brake System (ABS) and Active Yaw Control (AYC) to regulate braking force and torque.
Retuned
Mitsubishi has retuned and reconfigured the suspension to reinforce ultimate control and handling of the vehicle. Rigid connection of rear cross member, sized-up rear absorbers, fine-tuned front/rear springs and absorbers provide drivers a secure and exhilarating road experience with a more linear drive.
A suite of Safety, at lower price lines
For the drivers' peace of mind, the new ECLIPSE CROSS employs driver assistance technologies such as Forward Collision Mitigation system (FCM) with Pedestrian Detection₁ now standard, Adaptive Cruise Control (ACC), Lane Departure Warning (LDW), Blind Spot Warning (BSW) with Lane Change Assist (LCA)₂ and Automatic High Beam (AHB) in response to the acceleration, deceleration or stopping of the vehicles or objects ahead. High demand safety technology moves down price lines over the previous year, adding more value to the overall Eclipse Cross package.
Power train
The aluminum block/aluminum head, 1.5L turbocharged, direct injected 4-cylinder engine was introduced with the ECLIPSE CROSS. Its design includes MIVEC (Mitsubishi Innovative Valve timing Electronic Control). The turbocharger, with electronically-controlled waste gate actuator, provides enhanced performance and reduced loss of exhaust gas energy by enhancement of waste gate valve closing force and reduces pumping loss and enhanced fuel economy by enhancement of valve control at high load condition.
The engine produces 152 HP @ 5,500 RPM; 184 LB-FT @ 2,000 – 3,500 RPM. It is matched with an 8-speed CVT with Sport Mode.
More Connected – new Display and embedded Navigation
The new ECLIPSE CROSS comes with an improved infotainment system that helps drivers operate safely on the road. A new 8-inch screen (up from 7 inches) on the Smartphone link Audio Display is now mounted in a position closer to the driver for improved touchscreen operability and visibility with easily accessed turning and volume knobs. For the first time, MITSUBISHI offers a built-in TomTom® satellite navigation system. Apple CarPlay₃ and Android Auto₄TM compatibility comes standard on all models. A full-colour Head-Up Display (HUD) presents dashboard information and alerts that helps drivers acquire information safely and quickly.
Refined Audio
MITSUBISHI MOTORS' specially designed MITSUBISHI Power Sound System (MPSS) for the ECLIPSE CROSS, featuring eight premium speakers acoustically tuned and positioned specifically for the shape of the vehicle. Glass fiber cloth with aluminum vapor cone speakers and carbon cone mid-range tweeters in front with coaxial 2-way speakers on the rear doors aligned with the tweeters to deliver smooth, fluid sound quality. The system comprises a high-powered 510 watt tuned amp and eight speakers that are arranged to fit to the shape of the ECLIPSE CROSS.
More Value
From the beginning the ECLIPSE CROSS offered owners a broad collection of standard equipment from MITSUBISHI's premium Super All-Wheel Control system to Apple CarPlay and Android AutoTM; for Model Year 2022 that has now been expanded at each level.
Value has increased with more standard features at each of the four trim levels.
With a starting MSRP of $28,598, MITSUBISHI's base ES S-AWC trim is anything but. Now standard on the ES trim is Mitsubishi's new 8-inch Smartphone link Audio Display System, Forward Collision Mitigation (FCM) system with Pedestrian Detection, auto headlamps, and rain-sensing wipers. The rear seat headrest design is redesigned for more comfort. High value luxuries carryover such as MITSUBISHI's highly regarded S-AWC system, heated front seats, remote keyless entry, and rear roof spoiler.
The SE S-AWC priceline with a starting MSRP of $31,218, builds on top of the ES package and adds more features making it Eclipse Cross' high volume, high value offering. SE has been enhanced with a particularly popular in Canada heated steering wheel wrapped in leather, LED fog lamps and auto high-beam function. SE adds new handsome grey fabric interior. High demand safety features Blind Spot Warning (BSW) and Rear Cross Traffic Alert (RCTA) carry over as does comfort features such as dual climate control, keyless operation system and power folding exterior mirrors.
At the SEL S-AWC level, value is added with lane departure warning (LDW), adaptive cruise control (ACC), a 360 multi view camera₅, and Head-Up Display (HUD) unit now down a price line. The SEL now boasts a lush faux suede and leather combination upholstery, auto-dimming rearview mirror and a power driver's seat. Carried over are heated rear seats, LED head lamps and fog lamps that are now LED. Starting MSRP is $34,218.
For the GT S-AWC level, MITSUBISHI Canada has added to the SEL S-AWC priceline an embedded TomTom® satellite navigation system, the 8-speaker MITSUBISHi Power Sound System and new power passenger seat. New seat covering choices including a new supple light grey leather, and panoramic roof wrap offer the perfect recipe for comfortable road trips near and far. Starting MSRP for Mitsubishi's highest priceline is $36,998.
The new MITSUBISHI ECLIPSE CROSS, with its long list of drivability, style and tech enhancements will be on sale across Canada soon.
WarrantyAll MITSUBISHI MOTORS vehicles are backed by one of the world's best warranties – 10-year or 160,000-km limited powertrain warranty and a five-year or 100,000-km limited new vehicle warranty along with five years, unlimited mileage roadside assistance.
₁ The Forward Collision Mitigation (FCM) with Pedestrian Detection system is a driver aid only and is not a substitute for safe and careful driving. Under certain circumstances, the system may not detect other vehicles and/or pedestrians correctly.₂The Lane Departure Warning system is designed to read lane marks under certain conditions. It is not a collision avoidance system or a substitute for safe and careful driving.
₃Apple CarPlay is a trademark of Apple Inc. registered Canada and other countries.
₄Android Auto is a trademark of Google LLC.
₅The Multi-View Camera system is a driver aid only and is not a substitute for visual confirmation. The view on the screen is limited and objects outside that view will not be seen.
About Mitsubishi Motor Sales of Canada, Inc.Mitsubishi Motor Sales of Canada is the sales, service, parts and marketing arm for Japan's Mitsubishi Motors. With a product range consisting of Mirage, RVR compact crossover, Outlander compact sport utility and Outlander PHEV, and Eclipse Cross, MMSCAN supports its dealerships with a head office team and parts distribution centre — both located in Mississauga, Ontario. Established in 2002, MMSCAN and its dealerships employ over 1,200 people in communities large and small.