MODEL /
2018
Outlander PHEV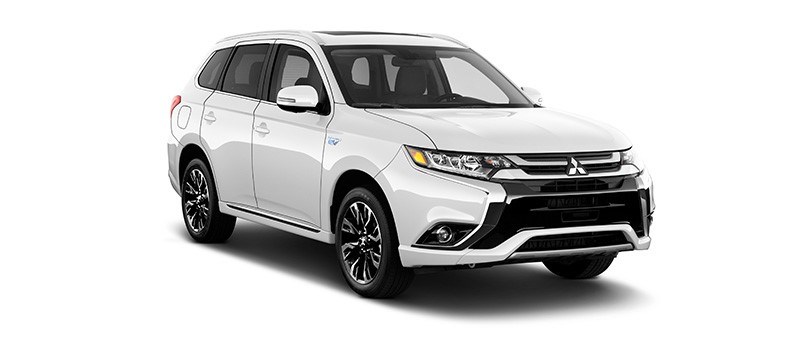 ALL-NEW MITSUBISHI OUTLANDER PHEV IN DEALERSHIPS
World's Top-Selling Plug-in Hybrid SUV Starts at only $42,998
Mississauga, Ontario – Jan 19, 2018 – The world's best-selling Plug-in Hybrid-Electric Vehicle (PHEV) is available in dealerships with a starting MSRP of $42,998, and that's before the applicable provincial electric-vehicle rebate programs.
Available in two well-equipped price lines and one package, SE S-AWC, SE S-AWC Touring Package and GT S-AWC, Outlander PHEV is the culmination of Mitsubishi Motors' 100-year history of automotive excellence, 50 years of electro-mobility and decades of four-wheel drive technology honed on the international rally circuit. Featuring a highly efficient 2.0-litre gas engine and two highly efficient electric motors, along with Mitsubishi Motors' superior Super All-Wheel Control (S-AWC) system, the Mitsubishi Outlander PHEV delivers SUV capabilities and EV efficiency like nothing else in the industry.
"To offer a market-first, technological tour-de-force that with seating for five passengers, room for their gear, 1,500-pound towing capability, off-road SUV prowess and practicality, and a 10-year powertrain and battery warranty all wrapped in an environmentally-friendly EV system, makes for an outstanding consumer proposition," said Tony Laframboise, president and CEO, Mitsubishi Motor Sales of Canada.
Claims of excellence include:
World's most technically-advanced 4WD plug-in hybrid
Canada's first twin electric-motor SUV with Super All-Wheel-Control (S-AWC)
Canada's only plug-in hybrid SUV to offer 100% electric 4WD capability
Canada's only plug-in hybrid SUV with DC Fast Charging capability, providing – 80 per cent charge in under 30 minutes
Canada's only plug-in hybrid with a remarkable 10-year or 160,000 km powertrain warranty, 10-year/160,000 km lithium-ion battery warranty and five-year or 100,000 km comprehensive warranty.
SUV Capabilities and EV Efficiency
Featuring a highly efficient 2.0-litre gas engine and two highly efficient electric motors, along with Mitsubishi Motors' superior Super All-Wheel Control (S-AWC) system, the Mitsubishi Outlander PHEV delivers SUV capabilities and EV efficiency like nothing else in the industry.
The Outlander PHEV represents a fusion of the EV technologies developed by Mitsubishi Motors for models such as the Mitsubishi i-MiEV, S-AWC technologies honed from the Mitsubishi Lancer Evolution and Outlander, and SUV know-how gained from the Mitsubishi Montero. The result is a groundbreaking new model that brings together the superior environmental performance and efficiency of an EV, the performance, stability and handling of S-AWC, and the practicality of a crossover SUV.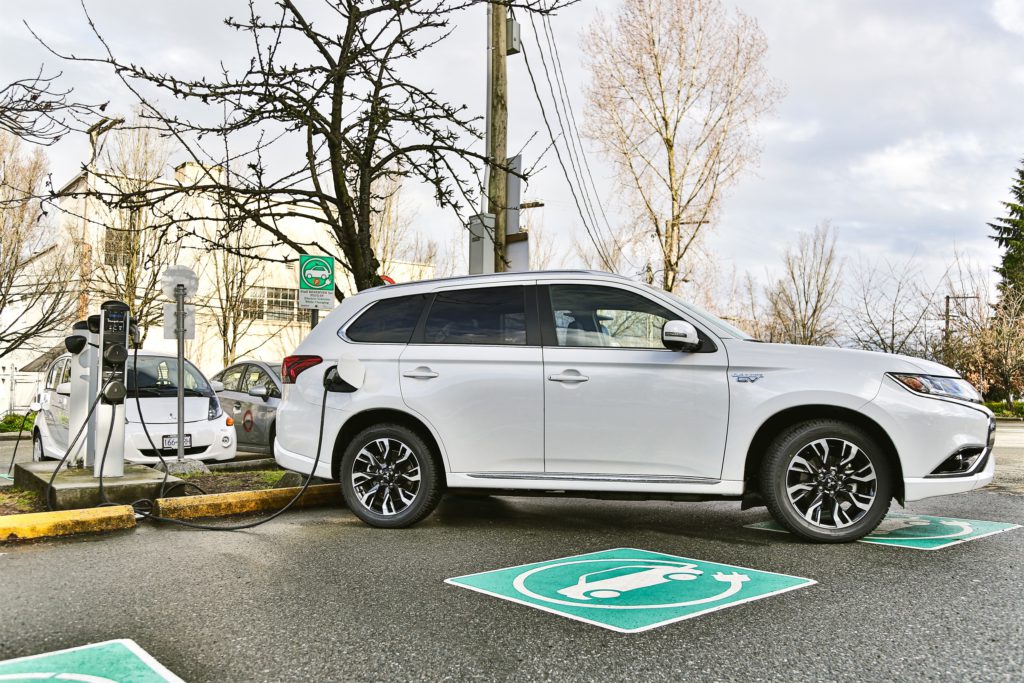 Pricing and Warranty
Pricing for Outlander PHEV starts at $42,998 MSRP for the SE S-AWC price line – a remarkable value, considering the suite of sophisticated technological advancements and advanced engineering.
SE S-AWC includes a myriad of standard features, most notably Blind Spot Warning and Rear Cross Traffic Alert, Smartphone Link Display Audio with Android AutoTM and Apple CarPlay, Power Driver's Seat, FAST-Key Entry & Ignition System, SiriusXM® Satellite Radio, 18-inch Alloy Wheels, Rear-view Camera, Heated and Power Folding Side-view Mirrors, Variable Intermittent Rain-Sensing Front Wipers with De-Icer, Seven Airbags, Heated Front Seats, and much more.
The SE Touring Package, which brings the MSRP to $45,998, adds Power Sunroof, Premium Leather Seating Surfaces, Power Front Passenger Seat, Heated Steering Wheel, LED Headlamps and LED Fog Lamps.
At the top of the line sits GT S-AWC, a premium offering at $49,998 MSRP and includes these additional items: Forward Collision Mitigation with Pedestrian Detection, Adaptive Cruise Control, Lane Departure Warning, Multi-View Camera System, Power Liftgate, 710-Watt Rockford-Fosgate® Audio, Auto High Beams and a 1,500-Watt Power Inverter.
The 2018 Outlander PHEV comes with a fully transferable 10-year/160,000-km powertrain and battery limited warranty as well as a fully transferable 5-year /100,000-km comprehensive warranty, and 5-year unlimited kilometre roadside assistance.
Plug-in Hybrid Electric System with Twin Electric Motors and Super All-Wheel Control
The highlight of the all-new Outlander PHEV is the use of Mitsubishi Motors' sophisticated Plug-in Hybrid Electric Vehicle system. It uses two full-time, high-output electric motors separately mounted at the front and rear axles to instantly supply torque on demand for incredibly responsive performance with agile four-wheel drive. The front electric motor is positioned transaxle-style on the left side of the gas engine and has an output of 60 kW. The front motor is smaller, lighter and higher-output enhanced version of the permanent magnet synchronous electric motor used in the Mitsubishi i-MiEV.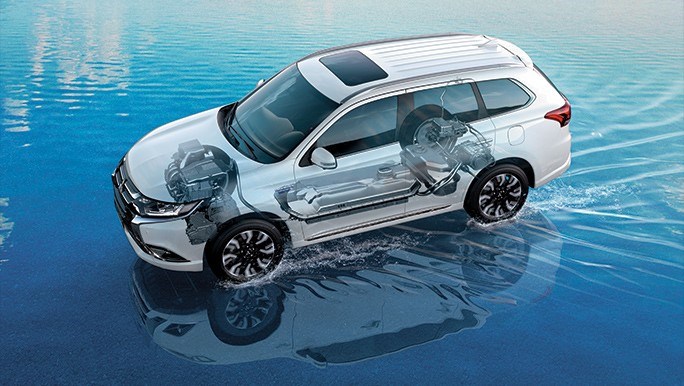 The system features a front-mounted generator that converts mechanical power to electricity and continuously charges the drive battery, while a Power Drive Unit (PDU) helps to convert the electric power and send it to the front motor.
The rear 60 kW motor and Electric Motor Control Unit (EMCU) are mounted beneath the rear cargo area subfloor. Both the front PDU and rear EMCU are intelligent control units that contribute to heightened energy efficiency and optimal motor control.
For additional power, an efficient 2.0-litre gasoline engine is utilized. Performance is optimized, smooth and quiet with abundant power to tackle a variety of driving conditions.
The battery that supplies the electricity for the motors is a high-capacity 12kWh lithium-ion battery pack developed specifically for the plug-in hybrid electric system. The battery pack consists of 80 cells configured in a series, with a total voltage measuring 300V and a total storage capacity of 12kWh. The battery is located in a dust and waterproof encasement positioned beneath the passenger compartment subfloor and between the front and rear axles (with no intrusion into the passenger compartment).
Regenerative braking is also used to generate electricity for the system. During deceleration (braking), the front and rear electric motors function as generators so that electricity can be generated and fed back into the lithium-ion drive battery pack. Regenerative braking occurs when the Outlander PHEV is in motion while the accelerator pedal is not being pressed (coasting) or when the driver engages the brakes by pressing the brake pedal. The level of regenerative braking can be conveniently selected by the driver at any time using the steering wheel paddle shifters.
Three Drive System Modes
Because of its unique drivetrain which combines a front electric motor, rear electric motor, front-mounted gasoline engine and generator, the Mitsubishi Outlander PHEV automatically selects one of three unique drivetrain modes for optimal performance and efficiency.
EV Drive Mode
In the EV Drive Mode, the Outlander PHEV is driven in a very eco-friendly performance mode by the two electric motors, with energy being supplied exclusively by the lithium-ion drive battery pack (100 percent electric-powered, zero-tailpipe-emission Outlander PHEV). This mode is excellent for running errands and performing daily family duties as a highly sustainable/low environmental impact form of personal transportation. What truly sets the Outlander PHEV apart is the fact it can run in 100% EV mode in 4WD, something no other current plug-in hybrid SUV in the Canadian market can do.
Series Hybrid Mode
When the energy level remaining in the lithium-ion drive battery pack is low or when the need arises for a sudden and/or additional degree of acceleration, the two electric motors are powered by the battery pack and provided additional electricity by the gasoline-powered generator – hence, "hybrid" mode.
In this configuration, the gasoline-powered generator helps:
1) Charge the lithium-ion drive battery pack
2) Provide additional power to the pair of electric motors
Parallel Hybrid Mode
In this drive mode, the Outlander PHEV uses its full complement of available resources:
1) The gasoline engine drives the front wheels; the front axle features a built-in clutch that switches the system to Parallel Drive Mode mainly for engine-powered travel at high speeds/steady-highway cruise.
2) The two electric motors positioned at the front and rear operate seamlessly when additional power is required, such as driving uphill.
3) The gasoline-powered engine/generator – while operating the Outlander PHEV at sufficient speed – will feed any excess energy back into the lithium-ion battery pack.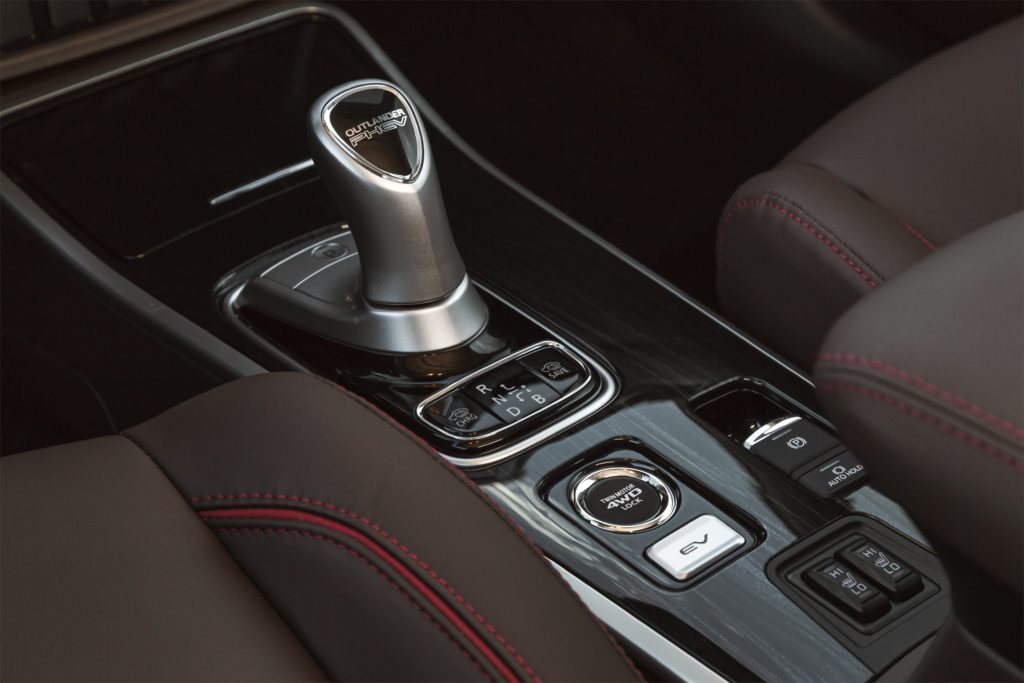 Driver Selected Modes
Battery-Save Mode
In this driver-activated mode, the Outlander PHEV automatically conserves the current state of charge within the lithium-ion drive battery pack by operating the Outlander PHEV in hybrid mode (note: Battery Save Mode only operates once the lithium-ion drive battery pack's level falls below 90 per cent full). For example, engaging the Battery Save Mode would allow the Outlander PHEV to be driven on the highway (where gasoline engines are more efficient) with the engine/generator activated, in order to maintain a higher battery charge; it could then be deactivated, allowing the Outlander PHEV to be driven in urban areas in EV mode where electric motors are more efficient.
ECO Mode
The Outlander PHEV features a driver-activated "ECO Mode" switch that reduces both fuel and electricity usage for increased efficiency simply with the touch of the button.
EV Priority Mode
The Outlander PHEV comes with the ability to prioritize 100% electric propulsion for a quiet ride, zero fuel consumption and zero tailpipe emissions. An "EV" button located near the gear selector allows Outlander PHEV to be driven solely by the electric motors – ideal when driving through "quiet zones" or early mornings in sleepy neighbourhoods.
Battery Charge Mode
Charging the Outlander PHEV is also possible while the vehicle is being driven. With the push of a button, drivers can activate Battery Charge Mode which uses the 2.0-litre gasoline engine to recharge the drive battery.
Easy Charging with Standard DC Fast Charging Capability
Charging the Outlander PHEV is simple with three different methods to choose from depending on location and/or needs. The Outlander PHEV's drive battery can be charged with a standard 120V (full charge in an estimated eight hours) power outlet at home with the supplied charging cable with 12A setting selected, or with a public or residential 240V (full charge in less than four hours) EVSE (Electric Vehicle Supply Equipment) charging station. Outlander PHEV also comes standard with DC Fast Charging capability, the only Plug-in Hybrid SUV in the market with it. Using this system at public charging facilities, the Outlander PHEV will charge up to 80 per cent capacity in less than 30 minutes. Charging status is displayed on the instrument panel.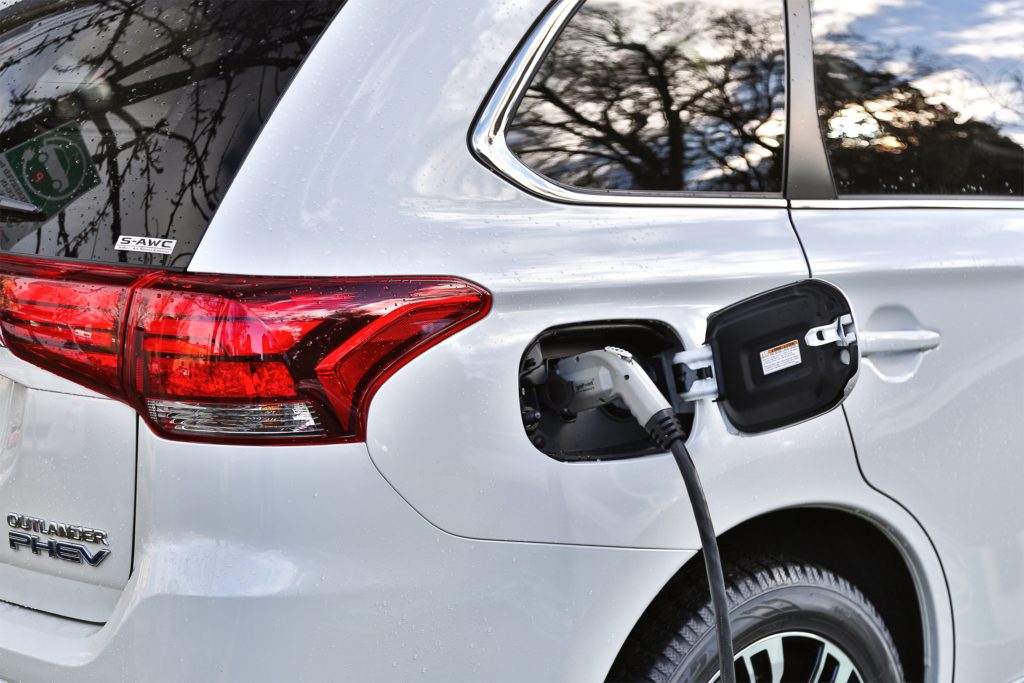 Spacious Comfort and New Refinement
Inside the Outlander PHEV is an oasis of comfort and refinement where driving pleasure is enhanced by generous legroom, luxurious amenities and a supremely quiet ride. The seats are meticulously finished with available premium soft leather and the rear seatbacks can be folded to allow for many different adventures. A special Outlander PHEV meter cluster design indicates to the driver the energy usage in real-time by pointing the needle toward the Power, Eco or Charge zone.
Affixed to the steering column is a pair of paddle shifters which control the regenerative braking system. This allows the driver to adjust regenerative braking strength to any of six settings with the simple flip of the paddles. Other interior features include an advanced EV shift lever and console design, efficiency and ECO monitoring features integrated in the multi-information display screen and a premium steering wheel.
Adding to the aesthetic, the Outlander PHEV introduces a new exclusive premium exterior colour, Ruby Black Pearl, along with a new interior colour choice, dark brown premium leather with red accents.
Technology for All-Around Safety
Advanced safety technology supports safer, more confident driving — on the road and in parking lots, day and night. From intelligent sensors that track the Outlander PHEV's surroundings and warns of danger to active driving assistance and solid passive protection, depending on the price line, the Outlander PHEV delivers some or all of these high levels of safety:
Blind Spot Warning (BSW) – This safety feature uses radar sensors in the rear bumper to detect vehicles in rear blind spots, on the right and left sides. An indicator appears in the door mirror when BSW is active and the turn signals are off. When a vehicle is detected and the turn signals are on, an indicator blinks in the door mirror on that side and an audible warning is heard.
Rear Cross Traffic Alert (RCTA) – An indicator appears in the combination meter display when RCTA is activated. If radar sensors in the rear bumper detect an approaching vehicle nearby from the right or left of the Outlander PHEV while reverse gear is engaged, a warning message appears in the multi-information display, an audible alert sounds and an indicator blinks in both door mirrors.
Forward Collision Mitigation (FCM) – Helps prevent a frontal collision or reduce the severity of that collision if it becomes unavoidable. Responds to vehicles and pedestrians via camera and laser radar.
Lane Departure Warning (LDW) – The Lane Departure Warning (LDW) system uses an onboard camera to monitor lane position in front of the Outlander PHEV audibly and visually, alerting the driver if it detects the Outlander PHEV leaving its lane unintentionally.
Automatic High Beam (AHB) - To increase safety, comfort and driving ease at night, the high beams automatically switch to low beams when oncoming vehicles are detected and automatically switch back to high beams when the road is clear, so the driver doesn't have to constantly remove their hand from the steering wheel to switch the beams manually.
Adaptive Cruise Control System (ACC) - Maintains a selected distance between the Outlander PHEV and the car ahead via radar for greater safety and peace of mind.
Multi-View Camera System (MVCS) - The views from cameras mounted on the front, rear and sides of the Outlander PHEV (providing a bird's-eye view) can be displayed in various combinations to help reveal what is in blind spots and help assist with parking safely.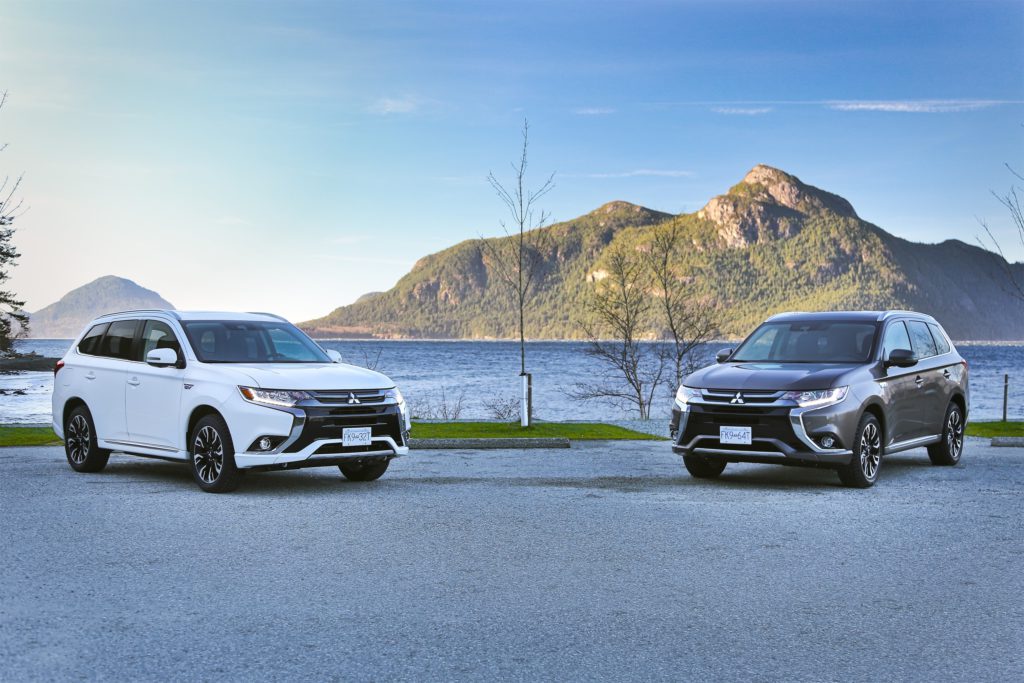 EV Remote and AC Power Outlets
Using the available remote control app, the Outlander PHEV can communicate directly with smartphones. You need not access a public Wi-Fi spot or prepare any Wi-Fi routers. Once set up, the owner can use the wireless device for many functions:
Charging Schedule – turn on/off the charging timer. Can also set the charging schedule to fit your lifestyle and take advantage of off-peak hours.
Remote Climate Control – cooling, heating and defrosting can be controlled remotely. You can also set the heat or A/C to run on a schedule. You can utilize the grid power to pre-heat or pre-cool before driving the Outlander PHEV, so there is less draw from the main battery after underway, as the interior is already pre-heated or pre-cooled.
Monitor Outlander PHEV Status – You can check your car's status such as an open/closed door or hood, headlights on/off, driving battery state of charge etc.
Outlander PHEV Control – turn on/off headlights and parking lights.
Available in the Outlander PHEV are two 120V AC power outlets located at the rear of the front centre console and in the cargo area. The outlets draw electricity directly from the drive battery and provide 1,500 watts of electric power, enough to power nearly any portable household appliance.
Mitsubishi Motor Sales of Canada is the sales, service, parts and marketing arm for Japan's Mitsubishi Motors. With a product range consisting of Mirage and Mirage G4, RVR subcompact crossover, Eclipse Cross compact crossover, Outlander compact sport utility and Outlander PHEV, MMSCAN supports its dealerships with a head office team and parts distribution centre -- both located in Mississauga, Ontario. Established in 2002, MMSCAN and its dealerships employ over 1,200 people in communities large and small. In 2016, MMSCAN became the only automaker to partner with Breakfast Club of Canada with a goal of stimulating young minds and a brighter future in communities across the land.
@mitsubishican
#OutlanderPHEV
#PHEVinSUVsize